Mr. Biggles II is a goldfish belonging to Ella Malikova's friend Zoe, and put into Ella's care.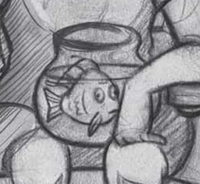 Plot
[
]
He first appears in GEMINA: The ILLUMINAE Files 02, where Ella carries him around in a plastic bag. Against all odds, he survives the invasion of Jump Station Heimdall by Ella's side; including a lanima attack, many bullets, and loss of proper gravity. He also lives through the third book (OBSIDIO: The ILLUMINAE Files 03), acting as Ella's informal muse after Isaac Grant helps her with her medical tech and offers her encouragement.
Trivia
[
]
Mr. Biggles II is the replacement for a fish by the name of Mr. Biggles, who also belonged to Zoe. While Ella was left in charge of Mr. Biggles I, the fish passed away due to her overfeeding him, and Ella went to the pains of buying a fish that looked exactly identical to the first.
Ella confesses that Mr. Biggles II is not the original Mr. Biggles in one of her video diaries, pointing out that a fish like Mr. Biggles II was expensive to buy and bring aboard, especially on the Heimdall.
When Hanna reveals to Nik that Ella is alive in GEMINA: The ILLUMINAE Files 02, she also makes a reference to Mr. Biggles II, though it seems she doesn't know much about him yet.